Every parent would agree it can be a very boring and tiring job to be traveling with a child. Families need to bring along a range of items like diapers, bottles, and bibs, to name a few, everywhere they go with their children. The Koalaty 3-in-1 baby travel bag is the best option. The bag can be used as a travel bed.
Thankfully for parents, these days' manufacturers have developed some items for their comfort as well as for the protection of the infant. A 3-in-1 Travel Bag is one of the items recommended by experienced mommies.
The Koalaty 3-in-1 worldwide Infant travel bag promises parents convenience and baby comfort. This product allows the baby to safely stretch out and sleep and allows parents to lug along the stuff they need. It is a very versatile item since it can also be used as a changing pad, a diaper bag, and a bassinet.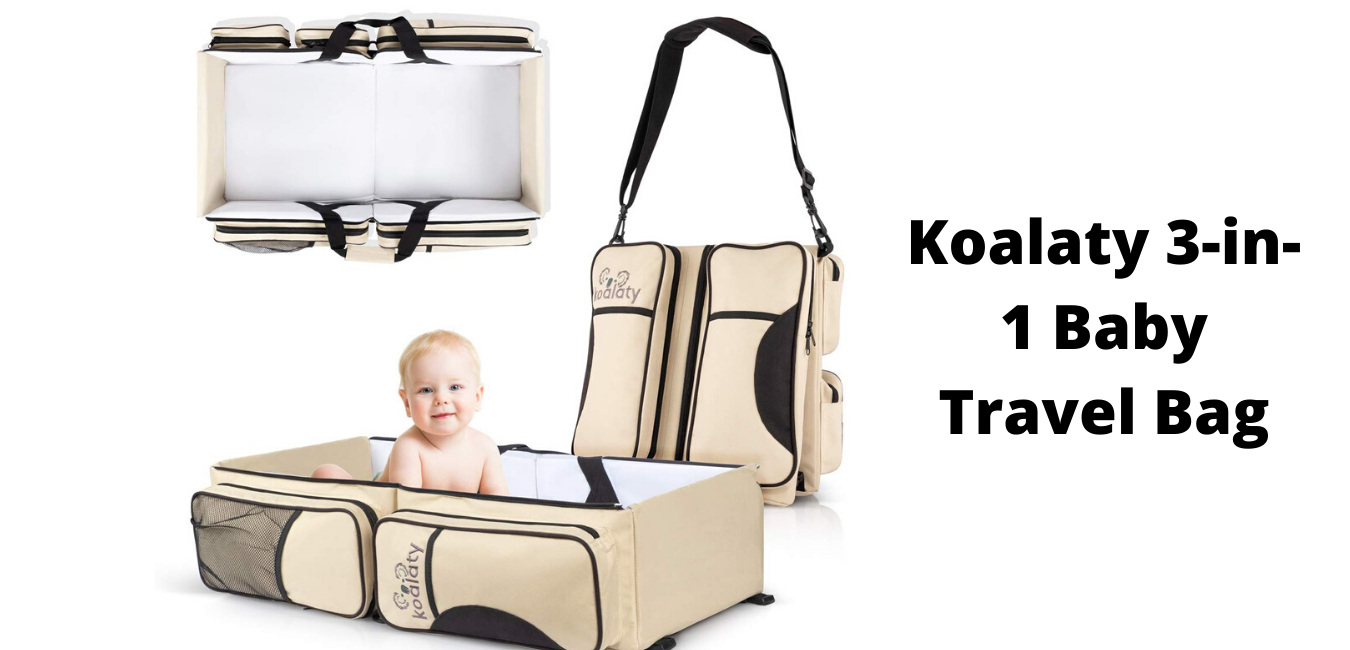 There are four zippered compartments in this travel tote where parents can store items such as clothes, bottles, toys, diapers, and accessories. For the baby's protection, the boxed-in surface is padded.
The Koalaty 3-in-1 travel bag also features customizable shoulder straps. The product also comes with two plastic closure parachute buckles, padded carry handles, and a disposable bag dispenser.
The manufacturer says to be using high-quality materials, especially fabric made from Polyester 600D. The surfaces are reinforced with cardboard to keep down the walls. This travel tote also features reinforced stitching to make it reliable and is waterproof and easy to clean as users just need to wipe it with a damp cloth.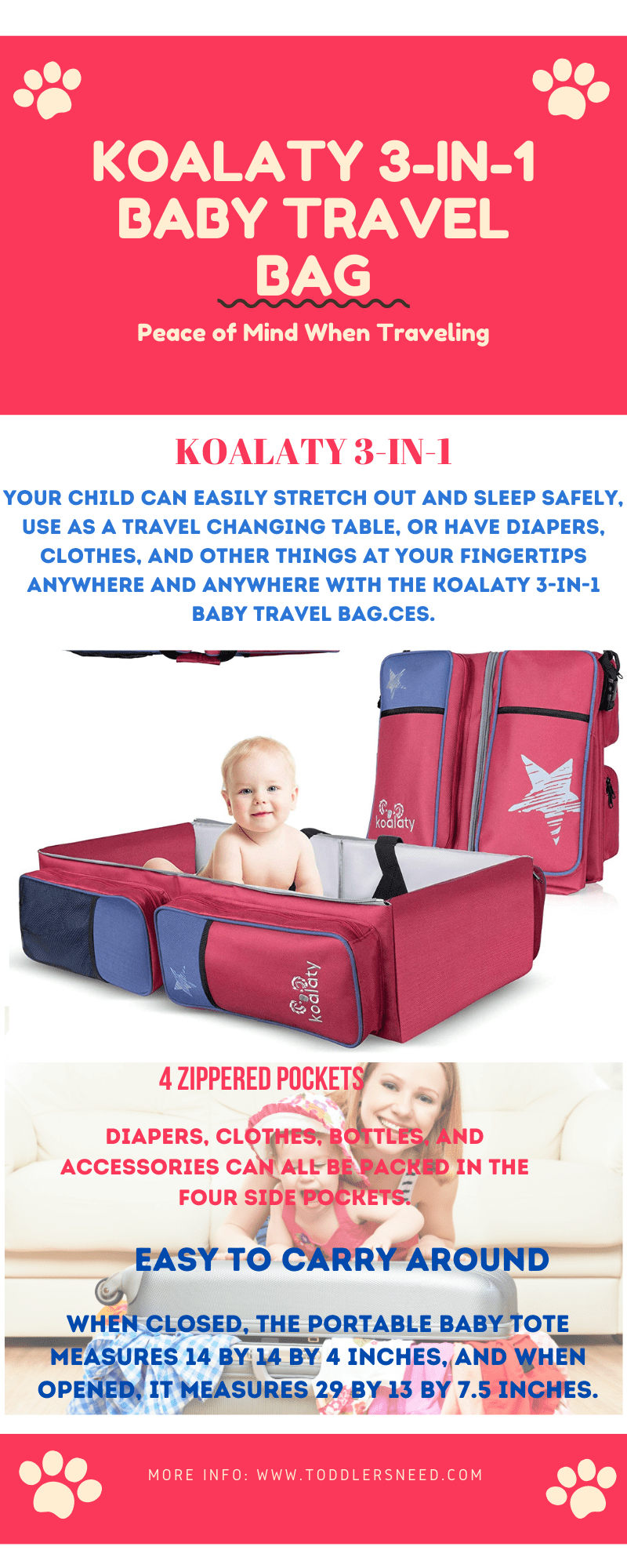 Product Information
Portable-Easily carry on or store
Practical-Use anywhere, anytime
Unisex – Tan / black logo with a koala
Quality Made-Polyester 600D fabric with reinforced sides of the cardboard
Spacious opening-29 "x 13" x 7.5 "(closed 14.5" x 14.5 "x 4")
Multi-functional – Use as a crib, changing pad, or hold diapers, bottles, food and so on
Galore Safety-4 outer pockets (1 mesh) with sturdy zippers
Cozy – Padded with enough space
Carry Options-1 shoulder strap adjustable / detachable or 2 handles
Waterproof – With a wet cloth wipe clean
Perfect Size
Quick to transport around compact baby tote measures 14 by 4 inches closed and extended by 7.5 inches to 29 by 13 opened.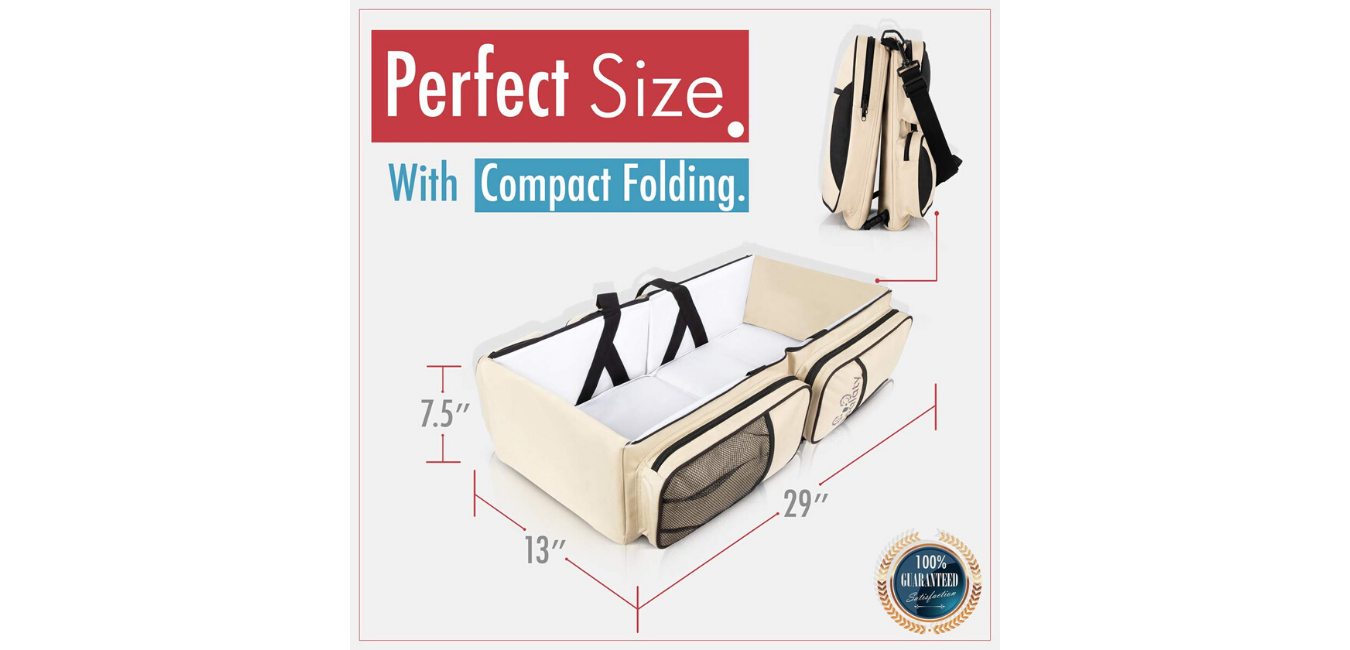 Product Feature
Convenient
4 deep outside pockets
Sleep comfortably
The Koalaty travel bag is Easy to use
Whether you're taking your baby on a summer day trip or an overnight trip, the Koalaty travel bag needs to save you time and effort as it comes complete with a large padded "boxed-in" surface to be either a changer slide or a safe co-sleeper for your baby while traveling or as an aircraft cradle; 4 side pockets can hold a large number of slides, clothes, and accessories.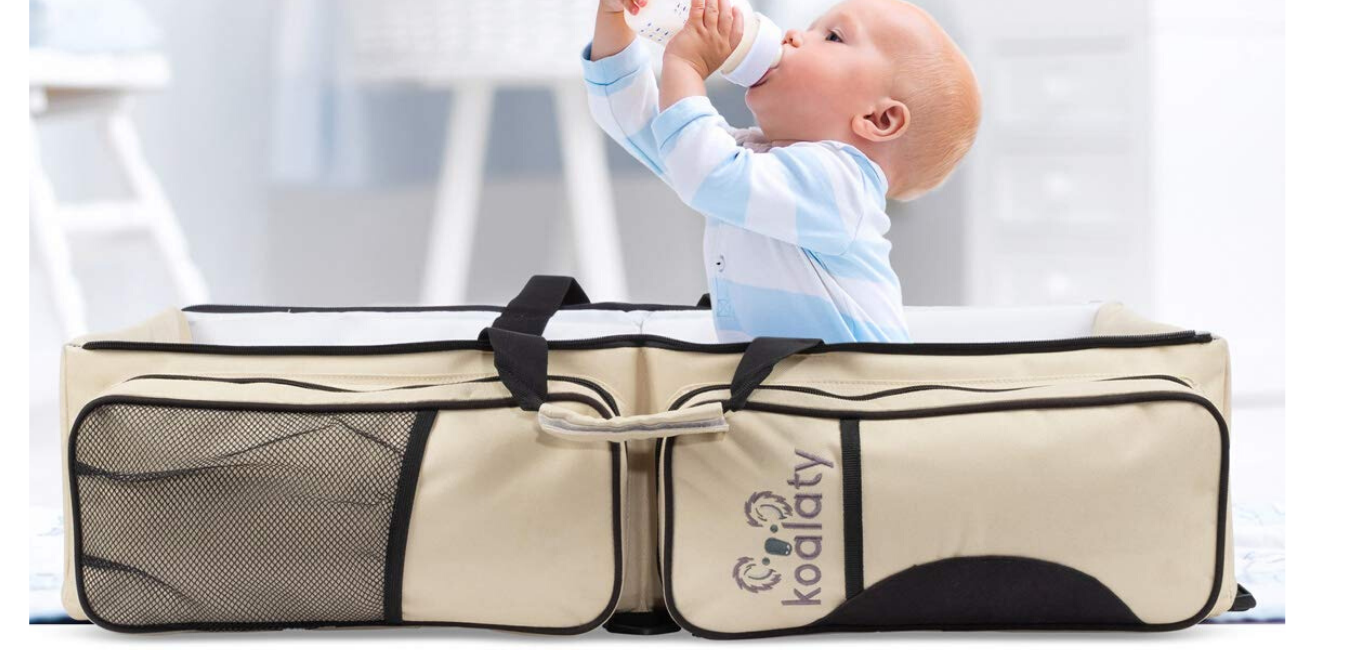 To ensure maximum comfort the area where the baby could sleep is padded. Plus, this travel bag is fitted with adjustable belts, so parents have the option to put it on the truck. The item comes with two parachute closure buckles made of plastic padded carry handles and a disposable bag.
Guarantee and Satisfaction
We know you're going to be impressed with our product, but please do not hesitate to contact us with any questions or concerns; buy the koalaty baby diaper tote which is a Bed, Pad, and Bag. With this practical, multifunctional, convenient, and generously spaced bag, let your baby sleep comfortably and securely anywhere while you can change, feed, and care for your baby.
Compare
Koalaty bag is very similar to other items on the market since it promises flexibility, comfort, and convenience. Other products such as the 3-in-1 Portable Bassinet Scuddles and the 3-in-1 Chubby Baby designer diaper have almost the same features as the Koalaty bag.
The Scuddles 3-in-1 Portable Bassinet, on the other hand, is similar in its wish to protect the baby. This 3-in-1 bag has special sticks for preventing the collapse of the sides. Just like the Chubby baby bag, this Scuddles product has five zipped compartments including an insulated one for bottles or drinks, a feature not offered by Koalaty 's bag.
However, Scuddles portable bassinet may consider a better bag because when used as a bag, it allows users to easily place items inside, unlike the Koalaty bag, which fails to offer the same convenience.

Final Thought
Since the bag has zipped compartments and adjustable shoulder belts, the manufacturer has given much consideration to the user's comfort with the product's design. Unfortunately, Koalaty missed one important feature, the isolated pocket where you can place bottles and other liquid items.
However, it is not to suggest that Koalaty 's pledge to provide convenience and comfort for the users has failed. The item is waterproof and easy to clean as users only need a damp cloth to wipe the surface. If a user wants a washable bag, though, then this one from Koalaty may not be a perfect choice.
To sum up, Koalaty delivered a product that still provides parents or carers with convenience, as well as safety and comfort for the little ones. But if a buyer looking for a more functional bag that can carry a good number of items, then the perfect fit may not be the Koalaty product. But if the buyer values that the bassinet works more than a bag, then buying it is a good item.