Are you expecting a magical Disney vacation with kids, so you obviously want it to be perfect? Given how much walking you'll be doing, getting the best stroller for Disney is a must.
A Disney vacation is in the dreams of every family. There is much to explore, from everyone's favorite characters to enjoy rides and attractions in Disneyland.
And it is complicated not to consider using a stroller if you have children and contemplating taking a trip to Disney World. The recommendation to do so mostly depends on the wishes of every family.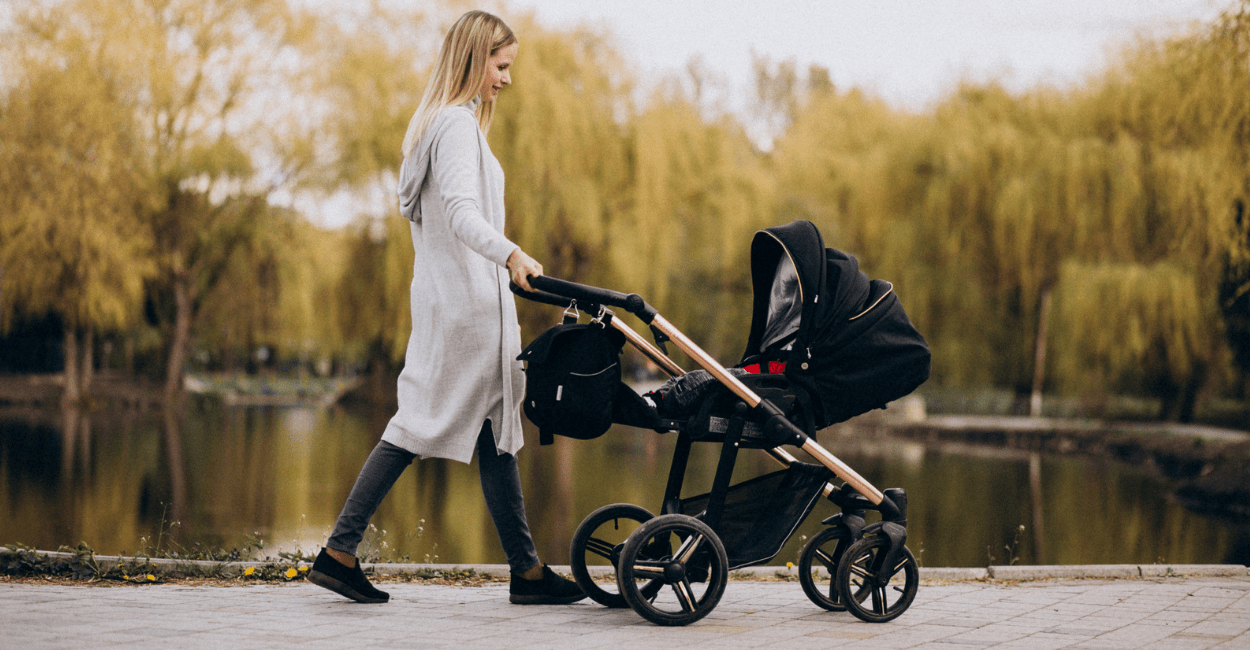 Disneyland in California has 2 theme parks on 510 acres, including Disneyland itself and California Adventure, 3 luxury hotels, and a shopping district. There are four theme parks in the entire Walt Disney World resort in Florida, including the Magic Kingdom, Epcot, Animal Kingdom, and Hollywood Studios, two amusement parks, and 47 square miles of land.
You'll need the best stroller for Disney in order to visit anything in this vast city. You want your baby to be able to quickly crawl in and out. In addition, attention should be given to features such as storage capacity, maneuverability, and overall scale. To see our top choices for the best Disney strollers, keep reading.


Disney World and Disneyland Stroller Policy
It's important to consider the Disney World Stroller Disneyland policy before getting into the suggested strollers. If you can't take your stroller to the park, it will be very unfortunate.
Disney parks are constantly changing their rules for strollers. So make sure to search their website for updates on every park you visit.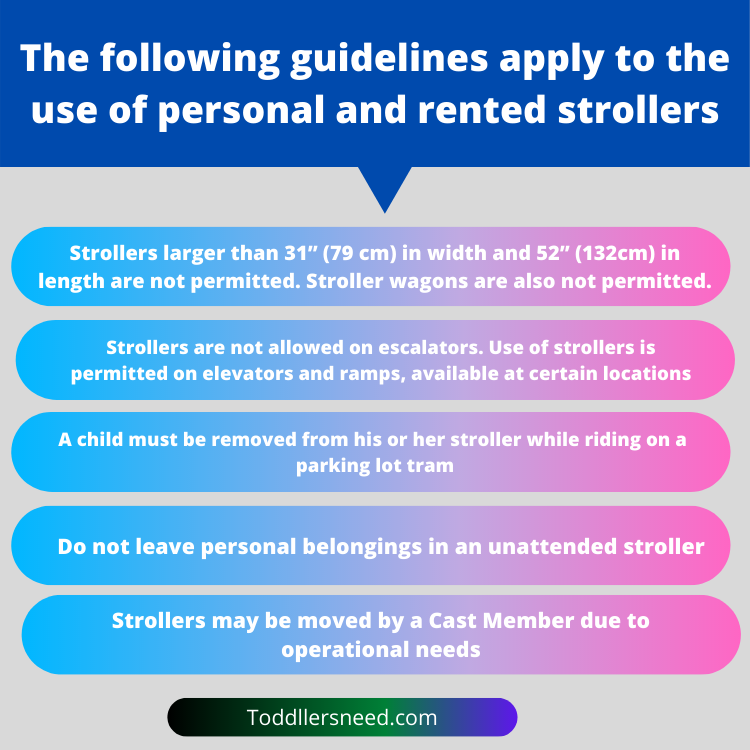 Disney World and Disneyland Stroller Size
Disney updated their sizing guideline for strollers a little on May 1, 2019. The new legislation sets the maximum size at 31″ (79 cm) wide and 52″ (132 cm) long for strollers.
Furthermore, even though most are legally "pushed" and not "pulled," "stroller wagons," which are a common hybrid, are banned. Standard wagons (and everything else dragged behind you) are also not authorized.
On the Disney Parks Blog, learn more about all of these developments.
Best Stroller for Disney for 6-Year-Old
Delta Clutch is a perfect lightweight stroller for 6 year old will feel relaxed in it due to the spacious seating and impressive sturdiness.
Not only is The Clutch a decent toddler stroller, but it's also suitable for regular trips or Disney visits. This due to its slim nature, lightweight design, and incredible compact folding. It only weighs 11.7 pounds, making it one of the lightest strollers for toddlers and easy to carry, which is most significant.
I think it's a great option for 5 or 6-year-old kids who just want to travel in a stroller occasionally, especially when they get bored after a couple of hours in a museum, aquarium, or on holiday visiting a new area. You can fold it while you're not using it, place it in a convenient travel bag, and hold it with no effort.
The fold scale is indeed truly remarkable. The Clutch Stroller by Delta Children would be a game-changer whether you intend to fly by airplane or train or use public transit regularly. It takes up a bit of space and can be packed very quickly. Stash it in a restaurant under a table, place it in a small car behind a bench or on a train under a seat.
Features
2 Second Fold
Smaller Than A Grocery Bag
Great for Travel
Super Lightweight
Designed for style
Full of Features
Besides everyone, the main impact is the canopy that looks identical to GB Pocket. Basically, it's a flat hood and doesn't offer a lot of sun coverage. It is, at least, very long and covers the infant from overhead rays.
Small wheels make The Clutch perfect for smooth surfaces and you can also drive it on flat pavement or indoor surfaces with one hand. Even with a big baby in it, the dual-wheel configuration and rigid frame keep the stroller strong. How secure it feels is truly amazing.
The idea of making healthy, high-quality children's furniture accessible for all families was developed around Delta Children. When it comes to your child's room, they know there's nothing more important than protection. That's why all items from Delta Children are made of long-lasting materials to ensure that they survive years of jumping and playing. Plus, to match or meet all industry safety requirements, they are rigorously checked.
When it comes to finding the right stroller, there are several choices available, which can make searching through the options a real challenge. The classic Bugaboo Cameleon3 is a common option among families who are able to invest in a single stroller to hold them and look nice while doing so from birth through infancy.
Bugaboo is known for creating strollers worthy of lust, and they're almost as durable as they're amazing to look at with the mission statement. From the flexible suspension system to the thick, plush fabrics, every aspect of the Bugaboo Cameleon3 screams luxury. Bugaboo has mastered the craft of Dutch design as the first company to manufacture a modular stroller device.
Who it's for
The Bugaboo was thoughtfully designed to be used from childhood before a stroller is no longer needed for your infant. Thanks to the supplied pram, it's ready to carry your baby home from the hospital and is compliant with the car seat.
Instead of an MSRP starting at $1149, the price could be out of reach for most families, but in local buy/sell/trade clubs, you will always find versions from previous years at reduced prices and cheaper second-hand choices.
Why you will Love It?
The best bugaboo stroller is a perfect pick for those that are not concerned about wasting their expenditure on a stroller, with the freedom to make it your own with a range of color choices and accessories to complement the lifestyles of your family.
Between city streets and rougher land, this stroller effortlessly travels. With only one hand, the smooth steering mechanism makes it easy to navigate this stroller.
The Best Bugaboo Design
Its story looks really durable and looks really good. It's got a sleek, streamlined style that doesn't have a bunch of unnecessary frills or crap going on. It doesn't feel heavy, but it does feel substantial and very solid.
It always feels very well made. And though it is bright, if that makes sense, it isn't too light. It feels significant and it is pleasurable to move.
With all seeming to have a function, this stroller is well built. It starts with a bench and then there is an additional bassinet. You can also get attachments that allow it to relate to just about any car seat model. I always enjoy this because when you can conveniently pop the car in and out, it makes it so easier to use an everyday stroller.
Assembly
The assembly is relatively easy. We have an extra bassinet, which is terrific. It is a very, very pretty bassinet. This heather-gray material is ours. The bassinet is a feature that we didn't want to have because it's consistent with the regular seat for newborns, but we use it all the time.
For a baby, whether they are in any position for an extended amount of time, the suggestion is that babies be flat on their back.
Folding and Unfolding
You like how lightweight the stroller is. It fits well and is easy to navigate for both of you because the handlebars are conveniently extended.
This stroller lets you turn the baby seat from facing forward or backward and also folds both directions. This isn't done with any other strollers. The fold is also very compact until it's closed. This isn't the most portable thing I've ever seen, but it's still pretty.
But though you can unfold it with one hand, folding it back up again requires two. And as it opens back up, you can't get something in the basket. Few strollers let you hold stuff there, but you need to clear the basket because of the special folding mechanism here.
It's a pretty awesome stroller overall. The Bugaboo is a solid choice if you want a sharp-looking stroller that is comfortable with a car seat and ready to expand with your family.


Some of the best on the market are the Britax Strollers. Strong, lightweight, designed to last. It's no surprise Britax strollers are so popular with parents. If you're interested in a Britax stroller and a quick reference table, see if Britax gives you and your baby the best stroller.
Why Buy a Britax Stroller?
The Britax strollers have so much to enjoy. That they're healthy is the most important thing to remember. In general, Britax strollers use 5 point harnesses and are made instead of inexpensive plastic with durable aluminum.
Britax has a preference for both of us, and I think they make it too easy to fly. As you need to, you can essentially use a Britax stroller, and not only are they flexible, but they can last over the years, which I believe is just as important.
About This Item
Travel system includes B safe ultra-infant car seat and base
B free stroller and adapters
Wheels and Suspension
And if the front wheel is like 2 wheels sandwiched together around a swivel, this is a three-wheeled stroller. The wheels themselves are made of a heavier material that is more foam-like.
They'll last for a decently long time, depending on where you walk. Gravel continues to pit them and more easily actually wear them out. As for the suspension, it's incredible! It added so many to the wheels that it reminded me of the suspension on our mountain bikes. It's so sweet.
Steering
You'll enjoy three-wheeled strollers because they make it too easy to turn around. To turn around, you don't have to do a 5-point turn. Simply swivel and go! It has a really, really close radius for spinning.
Its back wheels, which assist with steering, are wider and set farther apart. The height of the stroller doesn't really help, since it makes it bigger, but it makes it less tipple. Because it carries an infant up to 55 pounds, to accommodate the weight, the wheels need to be a little wider.
Braking
There is a related braking mechanism on this stroller. This means that one brake can only be triggered and both rear wheels can lock. It's too easy here! With just one little toe touch, I love being able to pause the entire stroller.
But if it's broken, it doesn't go anywhere until it's shoved by an NFL linebacker. Another advantage to having connected back brakes is that because of the back wheels there is no bar. As you don't have to worry about kicking a bar, that gives you more walking clearance.
Folding
The fantastic stroller, like the B Agile stroller, is simple and easy to fold. After just one hand, you can fold it up and it's very easy to do because under the seat you can just pull up on the folding stick. As you need to press the button on the side to open the stroller, you might need to use 2 hands to unfold.
The unique design is lightweight, but it still weighs about 18 pounds, so to have it folded and packed into the car, you should have a little bit of muscle.
I've said everything about this stroller I can say. A fantastic basic stroller is the Britax. Like a dream, it maneuvers. It's quick and simple and lightweight to fold. It has a beautiful canopy and a bench for your kiddo. Although there's a significant shortage of room, and this stroller is probably costly, I still have a Britax.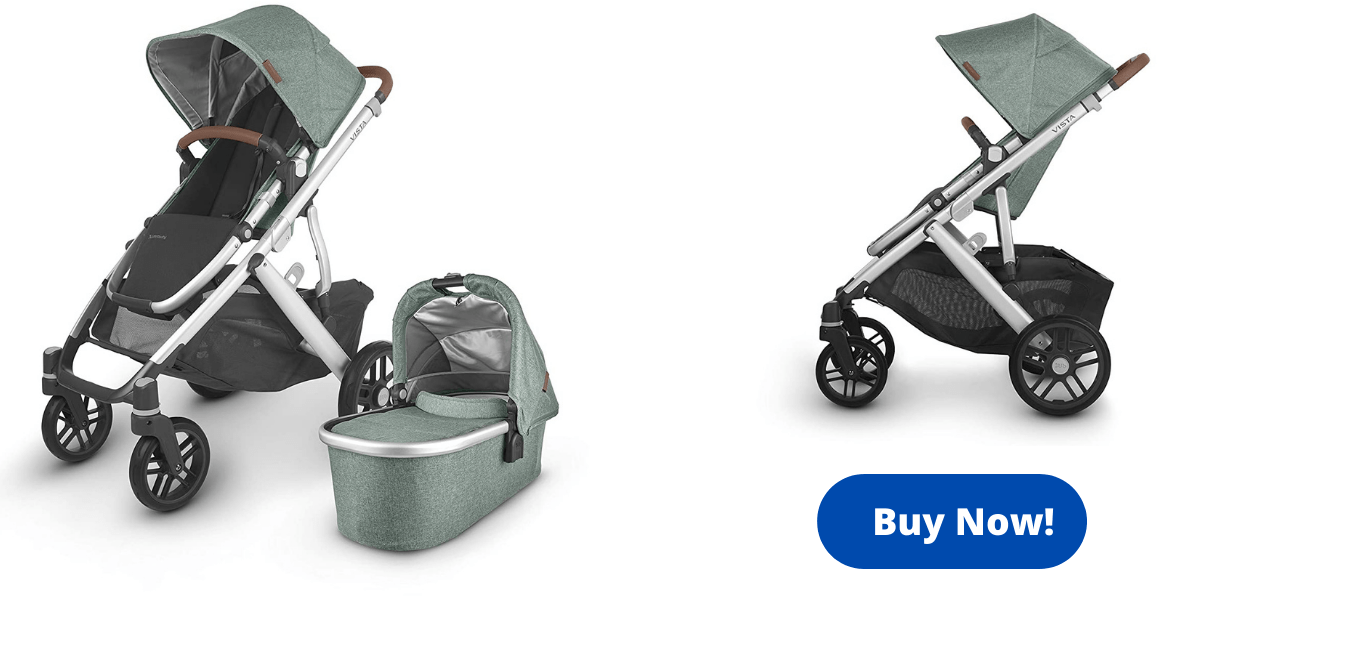 Families enjoy UPPAbaby Vista because it fully modifies. You can use this children's stroller with the built-in bassinet, modified from older versions to take a longer bed when your child is a newborn. Shift her to the toddler seat as the baby gets bigger to get a front or back-facing view of the world around her.
For a second tot and a Piggyback Ride-Along platform for big kids to stand on, you can add a Rumble Bench. That means you can take three children with you in only one baby stroller.
The MESA Infant Car Seat directly adds a Performance Travel Device, which is the ultimate in portability and safety, to the VISTA delivery. For ease, no need to compromise results.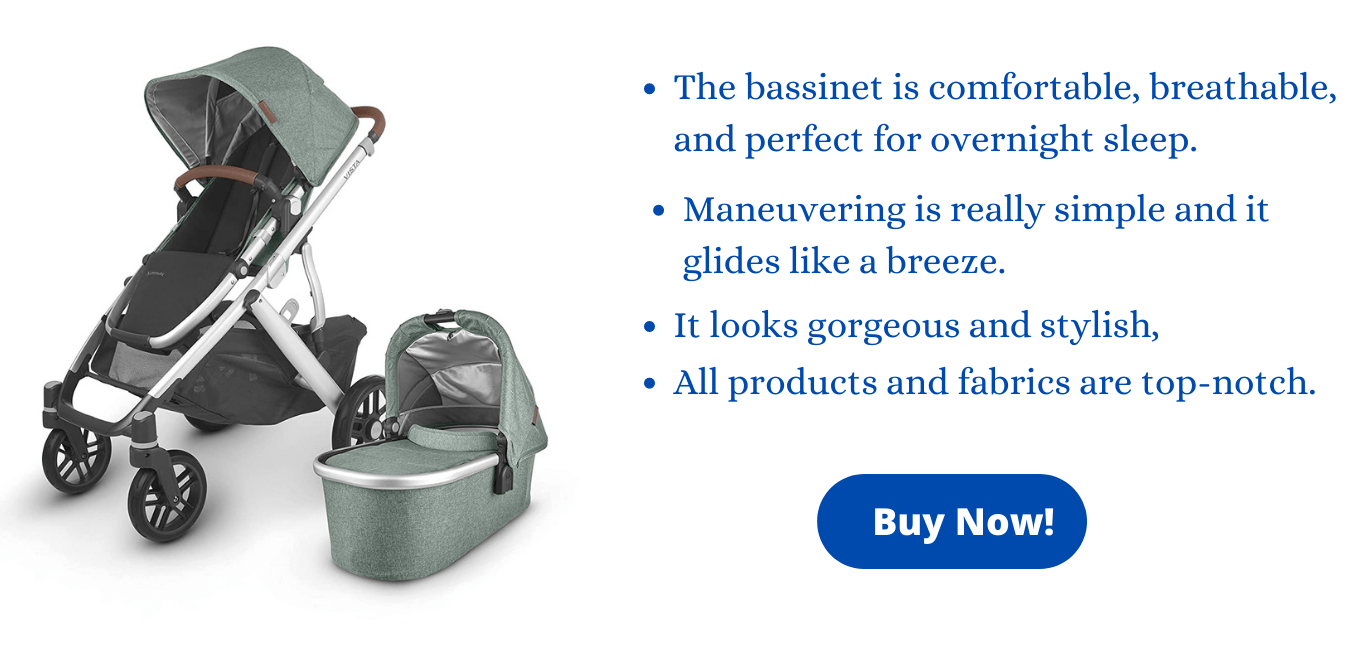 Extendable, zip-out canopy
The Infant Seat Canopy features zip-out material that stretches for added protection from the sun and flexible sheets that make it easier to peer in while creating airflow.
Full-size, Toddler Seat Reversible
Our Toddler Seat is built to accommodate your child's increasing size and interest, encouraging them to ride forward and family.
Stands as it is folded
Simple and intuitive is the VISTA one-step fold. When folded, the stroller stands by itself and can be folded with the toddler seat involved or without it.
Extra-large, simple-to-access basket
The wide opening ensures that your diaper bag, toys, and whatever else you pick up along the way are easier to access.
The ultimate quality and design look and sound more expensive than it really is, and after the strolling years are behind you, the building looks like it will last long. It is clear to see that Vista v2 has one of the best performing test scores in side-by-side comparisons.
Here is the info, they are an Orlando-based business that offers strollers that are high-quality, durable, and super-functional to use while in the amusement parks. The finest part? Prior to your arrival, they will deliver your stroller and will pick it up the day you check out.
You can't take them out of the parks and into your resort or ride to and from the parks if you want to borrow Disney strollers. Not to mention the amount you will spend on a regular basis much exceeds Kingdom Strollers' fee.
Choose Kingdom Stroller
The selection process for a stroller is quick. Kingdom Strollers has a description of each stroller, the standards for weight and height, and each stroller's features.  Like you see below, both of the girls took advantage of this fantastic stroller because it was 100 pounds in weight size and ideal for kids up to 50′′ wide.
It is straightforward to pick. You just click on the kingdom stroller for Disney of your choosing and you can fill out the questionnaire with all your criteria. Water can also be added to the order. This is where you can mark your stroller with your family name so that you can still see it in the stroller parking lot of the park!
Plenty of Space
One of the items you wanted was plenty of room in the parks to hold what you needed. We wanted space to hold all the baby stuff we needed, water bottles and little food, changing clothes, and my camera, of course, because we were park-hopping and out in the parks all day long! The Kingdom stroller has plenty of space, as you can see, and that's with the cooler bag and rain cover inside.
Functionality Kingdom Stroller for Disney
What we liked about the Stroller of the Kingdom was that it was a BEAST. We also liked that the wheels and the super-strong and powerful brake would control how they operate. When you are in the parks with all the hills and whatnot, that comes in handy. Most importantly, in the buses going to and from parks, the brake comes in handy. Both Kingdom Strollers also have a parent console that was great for stowing away our mobile phones, Disney maps, and refillable mugs from our Disney Resort.
Protection
The Kingdom Stroller has covers that provide deep sun security and drizzles of Florida rain. When it got too hot or when it would drizzle gently, the infant would nestle beneath. The covers have magnetic flaps so that I can still take a look inside to see if the child is asleep or for a Peek-a-Boo impromptu game.
Our experience was beyond outstanding with Kingdom Strollers and we are so happy to be able to share our analysis with you. We strongly recommend them and will still use them to suit our needs for strollers.


Best Stroller for 5-Year-Old Review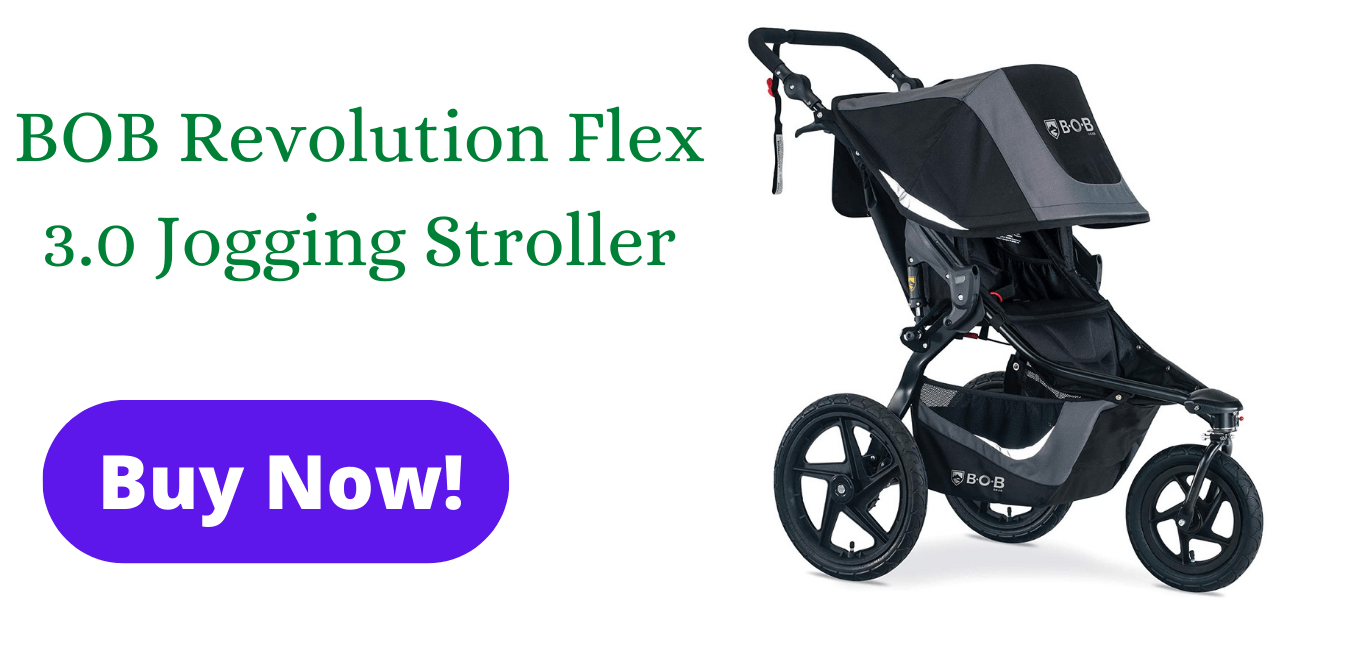 The BOB Revolution Flex 3.0 Jogging Stroller can be a big help for parents planning on taking an older child to one of the Disney parks. It is fast, lightweight, and supports kids up to 44 inches tall and 75 pounds.
The BOB Revolution 3.0 retains a stable ride even though you are cruising through crowds at top speeds. It features three tires packed with air. For a smoother trip, the front wheel has a 360-degree swivel or can be locked in place. It also has a suspension system equivalent to what you might find on a mountain bike, so you can expect your little one to have a smooth ride.
An extra-large canopy that offers UPF 50+ security and a magnetic peekaboo window are some other great features. For your toddler, it also has two in-seat snack pockets, a large cargo basket, and a cellphone pocket.
Features
Room for More Gear
Adjust on the Fly
Trusted Britax Safety
Safety
UPF 50 UV Protection and Canopy & Basket Accent
5 Point Easy-Adjust No-Rethread and Flip-Flop Friendly, Foot Pedal Parking
Ultra Padded Compression Seat Cushion and Infant Car Seat Compatible
Cool & Covered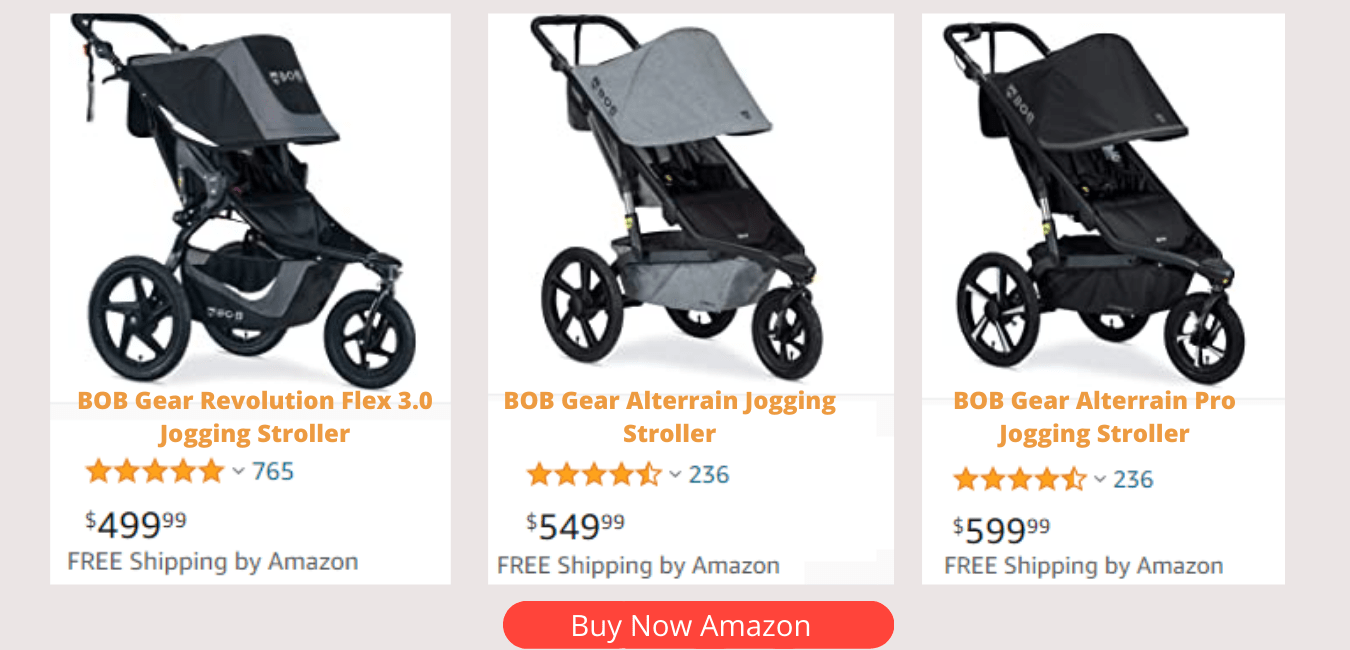 Pros
Big wheels and framework for smooth suspension
Adjustable handle and stable, well-balanced ride
Ensures support babies up to 75 pounds
Cons
High expensive
No cup holder
Ultimately, the customizable handlebar that has nine different locations is appreciated. This implies that no one has to hunch over or force themselves to push the stroller, regardless of whether it is pushed by mom or dad.
The major price point is the only drawback of this stroller. Check out some of these jogging strollers for those wanting to spend a little less on the perfect stroller for Disney Parks.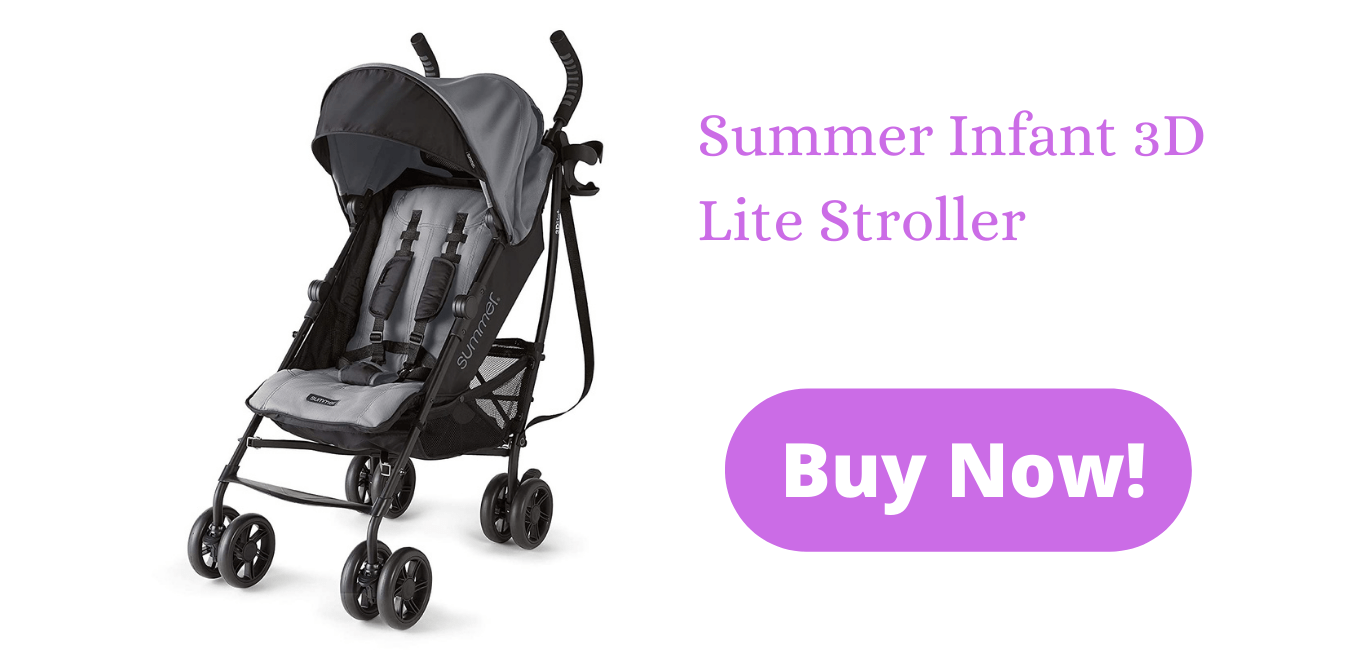 A sturdy stroller with a lightweight and stylish aluminum frame, the 3Dlite Stroller is one of the lightest and most feature-rich comfort strollers on the market. You can be on the go or stow and go with ease with an easy-to-fold frame and carry strap.
A little more expensive than the previous stroller is the Summer Infant 3D Lite Stroller, but it provides more features for your money. It's a strong mid-range stroller that doesn't compromise ease or comfort. With kids up to 50 pounds and 43 tall, the 3D Lite can be used.
A durable aluminum frame and high-quality fabrics are present in this lightweight stroller. There are 4 different places in the seat and the seat is soft yet breathable. When they are reclined, your child will enjoy the footrest as well.
Features and benefits
The durable, stylish, lightweight frame with wide seating area and 5-point safety harness (13.0 lbs)
Recline for 4 roles
The open nature makes it easy to reach the extra-large storage basket.
Canopy with adjustable and removable flip out sun visor
Front wheels with anti-shock and lockable rear wheels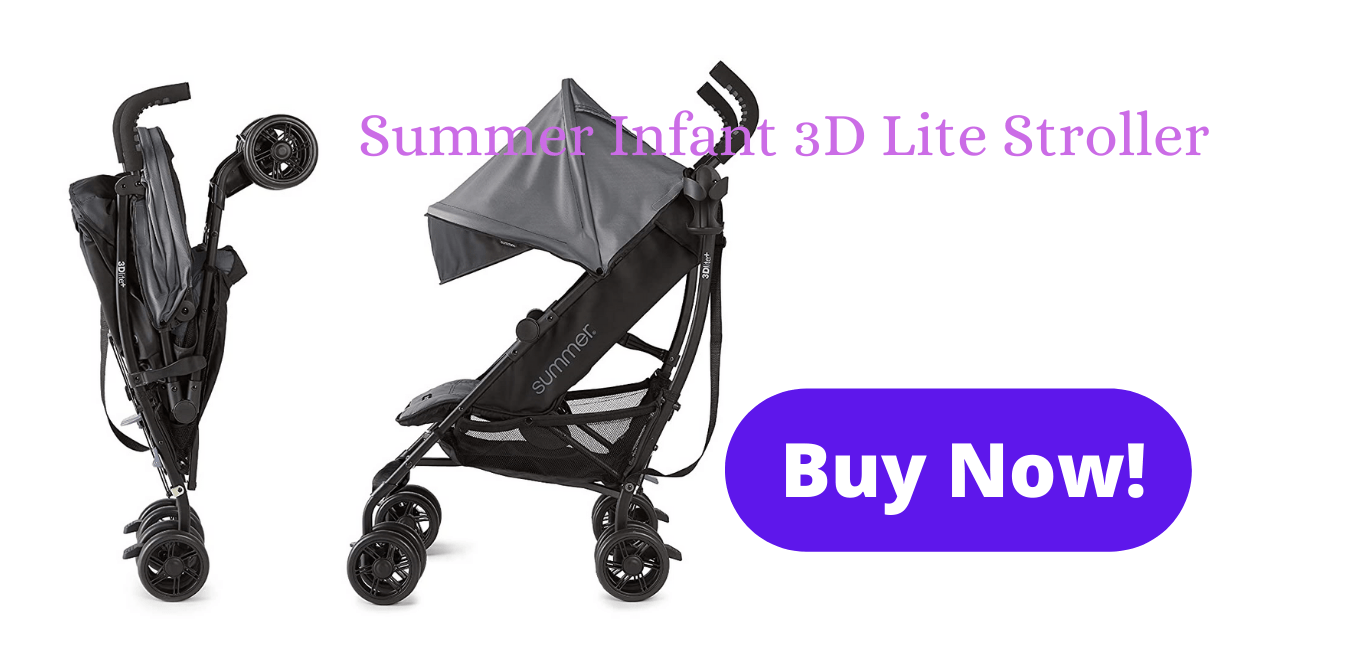 Pros
Lightweight and long-lasting
Affordable price
Cons
There is not much sun cover at Canopy
Small basket
Unable to drive with one hand
The Summer Baby 3D Lite is a great choice if you choose umbrella strollers for traveling. It only weighs 13lbs but holds up to 50lbs for kids. You're going to lose some storage space because the canopy is smaller, but that might be perfect depending on your requirements. Again, this is a newer model (the 3D Lite+), meaning you might find this one on sale.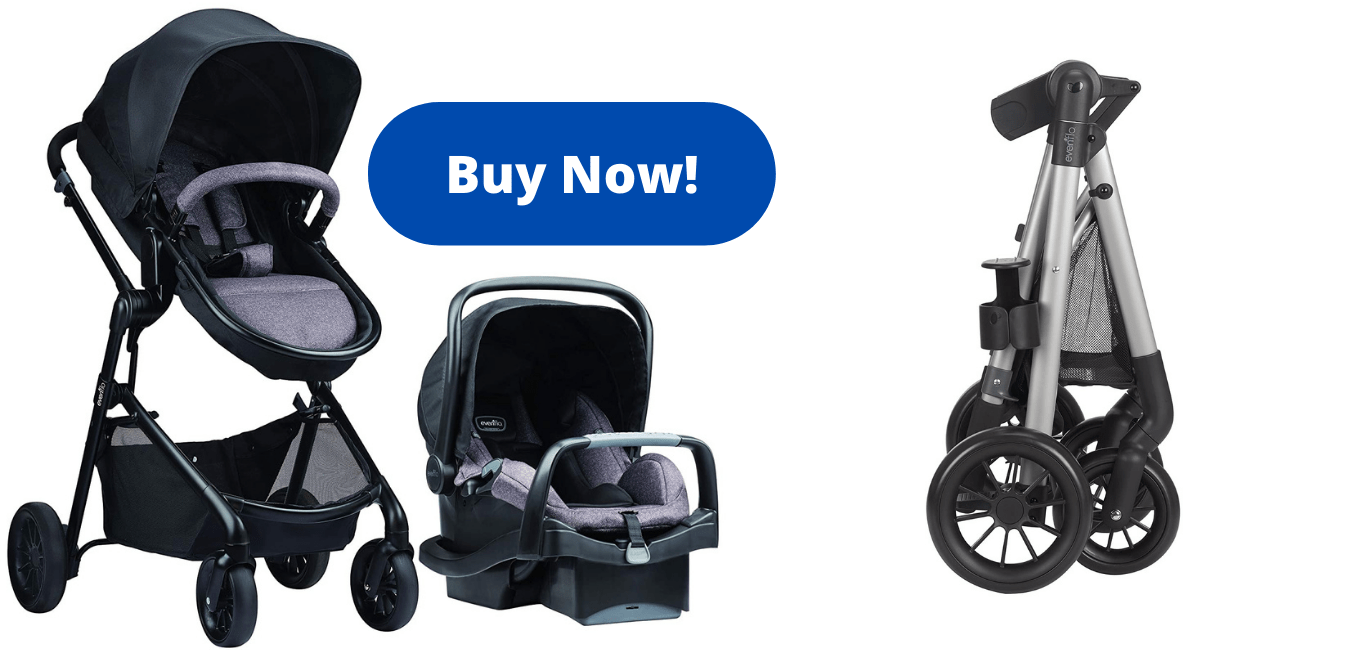 Do you want a travel device that is a stroller that is high quality, robust, safe, and multifunctional? Only for you, I've got everything. Modular Travel System for Evenflo Pivot. Find out why so many parents are so amazing and enjoy this stroller!
It is a 3-in-1 stroller with a baby that's really growing. This travel device will undoubtedly serve you from infancy to toddlerhood for a few years.
The Evenflo Pivot Modular stroller itself is very lightweight, which makes maneuvering so easy. It's very easy to turn those front wheels. The wheels' size is nice and means they're going to hold up over time.
The storage basket is wonderful on the Pivot. It is wide enough for a diaper bag or other large bag to actually fit. And it's awesome that you can get to that from the front!
You think that besides the large canopy and the storage basket, there are no bells and whistles in this scheme. And what, you know? That's what I love about it. It's sleek and easy. You don't have a lot of storage, but there's space for everything you need.
Folding
Evenflo Pivot Stroller weighs 20 lbs which is really enjoyable for a standard stroller. It can fold easily and rapidly, and it takes around 5 seconds. There are two handles on both sides of the handlebar, and we want to lift them and fold down the stroller. And it's not important to lean over. Good for parents who have back issues.
After folding, by pressing a button, we can lock the stroller, and then the stroller will position on its own and stay locked. It has a very slim profile that makes it easy to store in a closet and even in a small car trunk to transport.
The stress-free setup of all strollers tested. It takes only a few minutes to attach the wheels, handlebar, and seat. Then it is ready for a walk.
Canopy
The modular travel framework of the Evenflo Pivot features a wide 3-panel canopy that offers full sunray coverage. Your kid will lie or sit comfortably and enjoy summer walks. This spacious canopy protects your baby from overheating at the same time with sunburn and adequate ventilation.
Wheels
With Cruiser Tires, this stroller has two bigger rear wheels and two smaller front ones. While your baby has a smooth ride, you can push the stroller effortlessly. And there's no need for you to think about getting a flat tire. You can't lock the front wheels and swivel them, which is why this stroller is not all-terrain.
Brakes
This stroller has double-acting brakes, which are mounted next to the rear wheels and are independently locked to each wheel. It's not too much of a hustle, but a single-action brake available.
Handlebar
This stroller has an ergonomic handlebar from the ground with a fixed height of 40″, rather a short person and it is very convenient to push this stroller.
Evenflo Pivot Stroller Storage Basket
Evenflo Pivot Compact Travel System provides plenty of storage room thanks to the big basket below the bench. It will accommodate your basics and all of the requisite baby gear. Your purse and a big diaper bag will conveniently fit in there.
Forgoing to the mall and on day trips, this stroller works fantastically. From the back and front, the basket is readily available.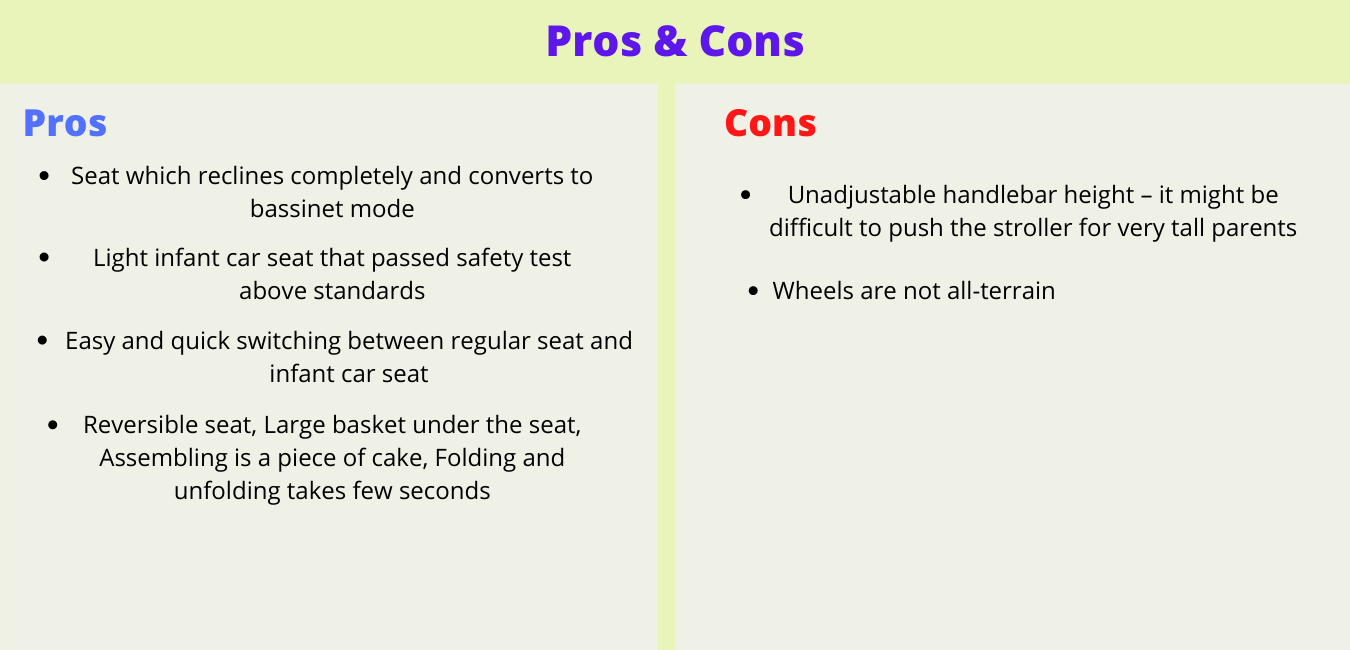 Color Versions
Five different variations of the color are available: Casual Grey, Sandstone, Aspen Skies, Manchester Tan, and Rockland. More information about the colors currently available can be found here.
There are a lot of parents out there who think a great travel system is made up of a fancy name and a huge price tag. And while Evenflo has been around for a long time and it's not fancy enough for some people, they make some fantastic travel systems.
Do you like the modular Evenflo Pivot travel system? Check the feedback of other parents here before you buy it to make sure this stroller suits your style.
For new parents, finding a stroller that you not only love but trust is crucial. But with so many brands on the market, choosing the right one can be difficult. You can consider Chicco Bravo to be the best alternative if you're into top-notch safety features and sleek, state-of-the-art designs and styles.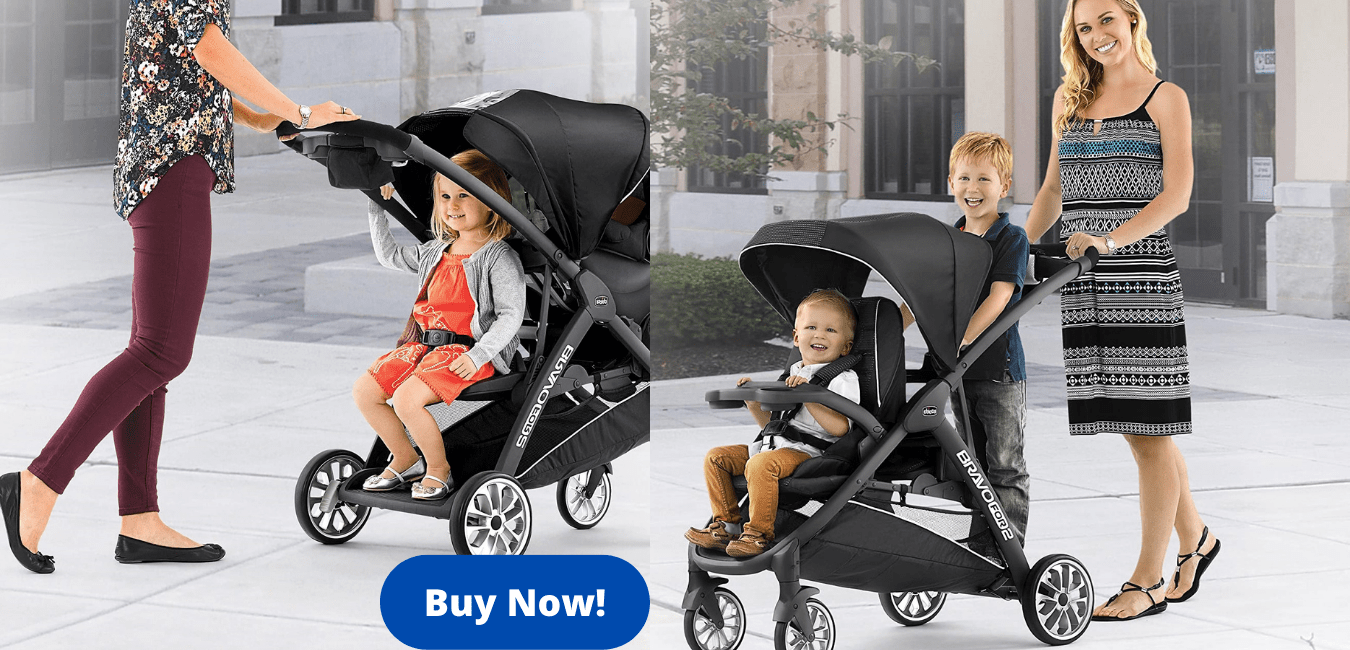 Chicco's Bravo stroller is a complete travel system. Designed by one of Europe's leading baby equipment companies, that grows with your baby from infancy through childhood. The collection includes the infant car seat and base KeyFit 30 Zip, as well as the Chicco Bravo stroller. As a stroller, purchasing means that you have all the equipment you need, and it's all stable.
The Chicco Bravo Stroller Safety Features
With all the best safety features you might ever wish for, Chicco was able to bring together strollers. You should feel assured in your ride thanks to the stable harness, easy-to-use parking brakes, and heavy-duty wheels. Their strollers have undergone rigorous testing that led them to their products with the finest quality materials.
The extra step to ensure good usability is also taken by these safe, safe, and fashionable strollers. For parents and children, each stroller offers comfort. Chicco takes things a step beyond just ensuring that the stance of the infant is also properly formed from their seat, which is something that other brands of strollers clearly have not really realized.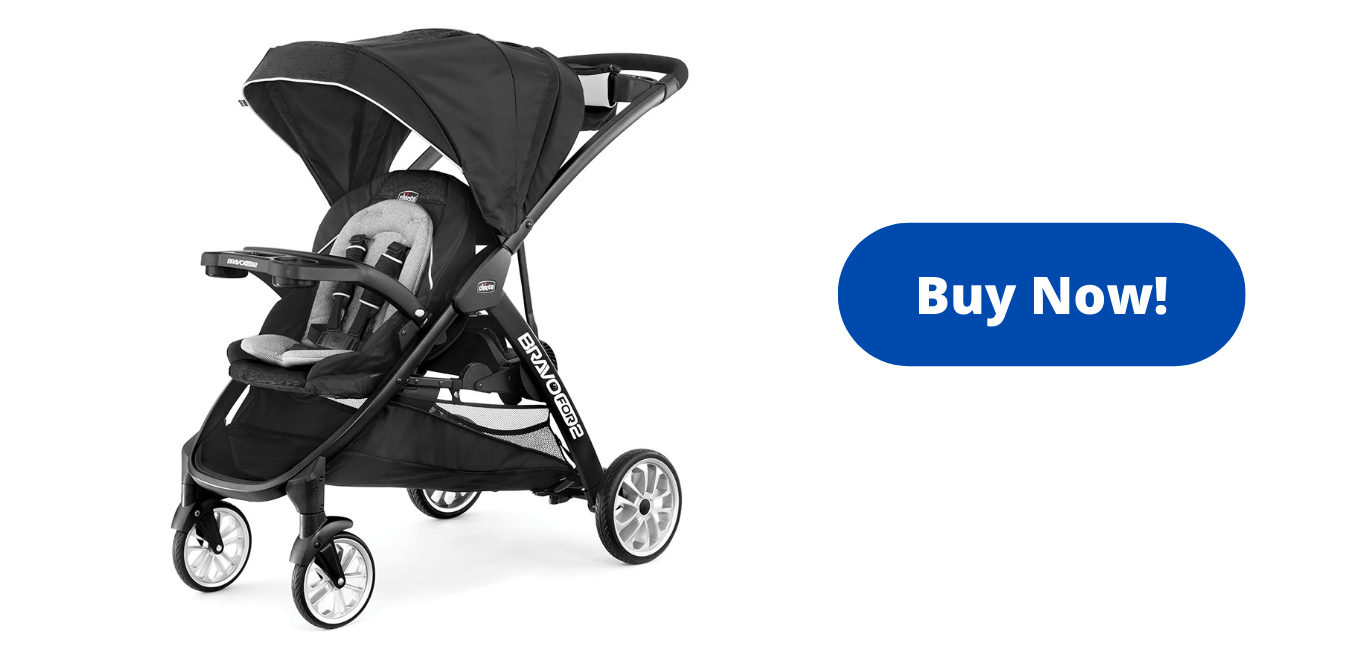 This brand is proud of making strollers that are quickly maneuvered across city streets while becoming a pleasure to collapse as well. Their one-handed folding device makes it easy for parents, even if they're on the bus or packing up for a stellar holiday, to collapse and sweep up the stroller.
Picks for the Top Chicco Bravo Strollers of 2021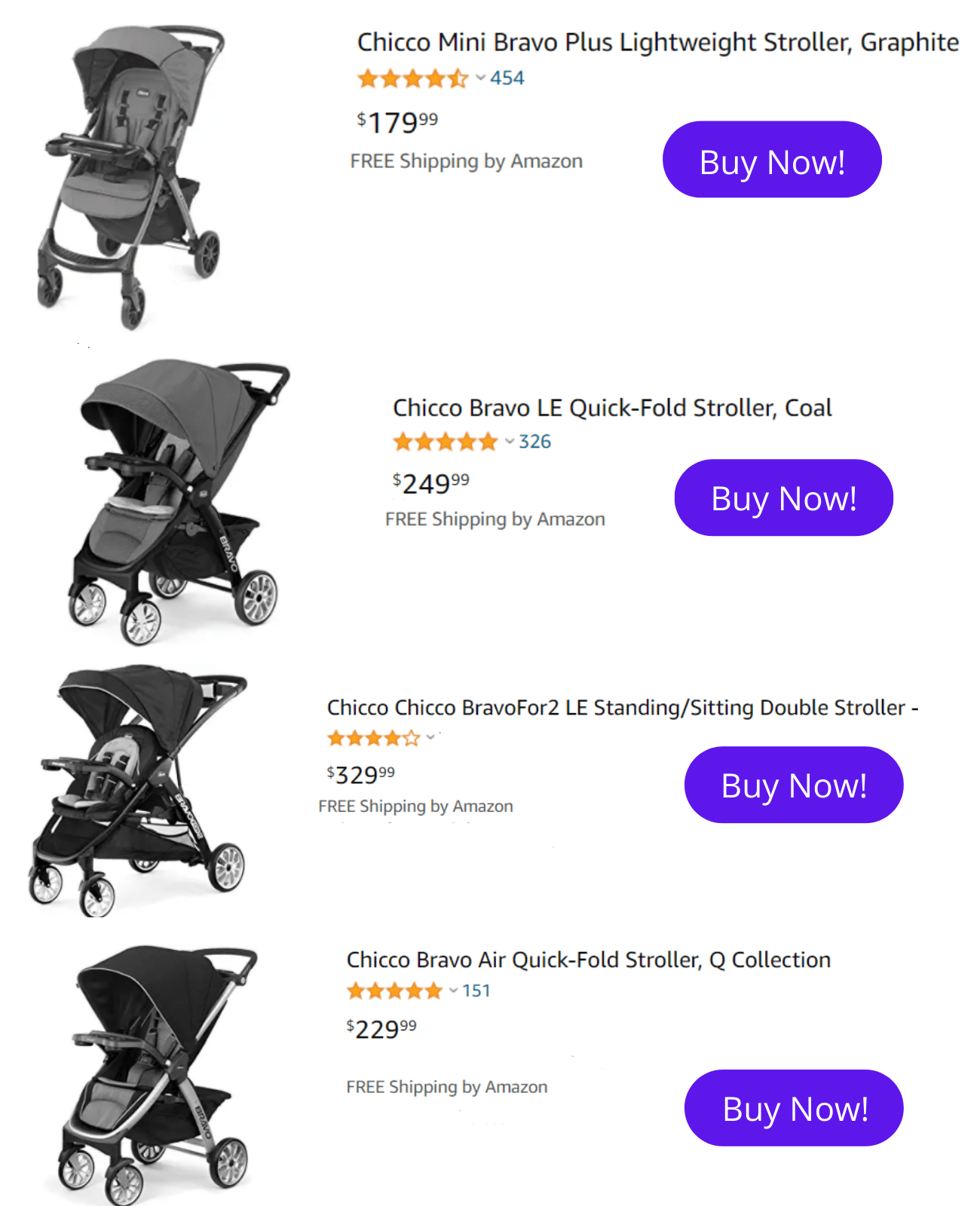 Chicco is a brand that you can have faith in. They focus on providing parents with strollers that are creative, healthy, and stylish. With all of these strollers, you can't really go wrong, but try to look for unique developments that are far more convenient for you and any situation. It might be a jogger for some, while others need a pair that can take on a car seat. Safe Travels!
You are all the way behind you when you're looking for a healthy, convenient, right-sized stroller that suits the lifestyle of your family. This detailed guide lets you pick the right stroller to fulfill your ever-changing requirements.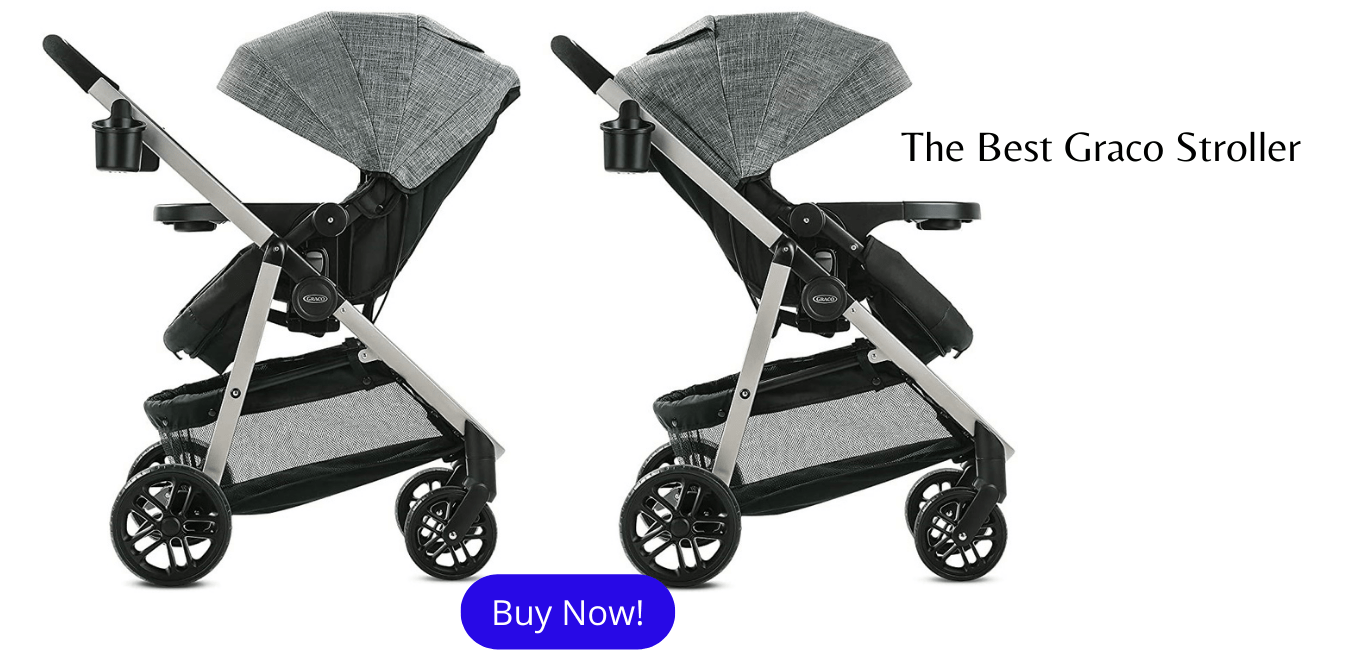 The Graco Single Stroller
The single stroller should be primed for all the journeys you and the kid will share. The graco stroller a first-class seat for one.
Everyday Strollers: The full-size stroller is the one you rely on for daily use, from the supermarkets to the sidewalks.
Lightweight Travel Strollers: A lightweight and portable travel stroller excels in portability and agility for ease of use at family getaways and trips for exploring destinations near and far.
Jogging Strollers: A jogging stroller is designed to be durable and agile for active parents.
The Graco Stroller Benefits
To build a transport scheme, it embraces all Graco baby car seats
For baby's safety, a multi-position reclining seat
Fast and simple folding
Lots of storage for the infant and you
Features for storage such as cup holders and bins
Front swivel wheel locking makes a simple transition from walking to jogging
The Graco double strollers encourage you to tailor for the comfort of your little ones with several forms of traveling.
Standard: Expect two numbers or a twin? Keep your growing family healthy and happy as you walk. A easy, daily solution is Graco standard double strollers.
Modular: To customize your ride, modular strollers allow you to. In different ways, stroller seats or baby car seats can be attached to make your kids face you, the world, or each other!
Single to Double: Consider an adaptable style that allows this stroller to be quickly converted from a single to a double.
What Is The Best Stroller For Big Kid?
Is your infant developing more than his peers and has your new stroller outgrown also now? And maybe your child is 4 or 5 years old and yet still likes to ride a stroller sometimes? Maybe the school is far from your home and your kid can't go the entire distance on foot and sometimes you should use a stroller?
Maybe your child is healing from surgery or has a medical problem and it would be useful for you to use a stroller for a big kid?
Tips for Strollers at Disney
Here are a few final tips for handling strollers on your tour whether you are going to Disneyland or Walt Disney World with an infant or toddler.
Although Disney strollers can lease, they're pricey and can't be taken anywhere. Strollers have to sit in the parks or Disney Springs at Disney World. Everyone's use of Disneyland confined to Downtown Disney and the parks. Consider choices like having your own or renting from an off-site seller if you need a stroller for your hotel or other outings.
For different parts of each park, Disney has dedicated stroller parking areas, usually many in each location. Look for the designated places to avoid clogging walkways and making the stroller pushed.
You can return after a trip to find your stroller in a new location even though you parking in the designated stroller parking areas. Cast members switch strollers to preserve the consolidated and coordinated parking areas but don't fret. Try branding the stroller to spot it in the crowd with a bright handle or balloon.
The truth is that at Disney, your stroller is amazingly secure. But if you're concerned about theft, somewhere a little secret, mark your stroller with your name and tuck a GPS tracker like a tile into it somewhere unnoticed.
Although most people will need a pre-school stroller because of Disney's long walking distances, older children are not going to need a stroller all the time. I notice that a "park once per land" approach fits well for children ages 3-6. Park your stroller as you reach a country and then leave it like you do a number of local attractions. You're going to save time not returning, picking up a baby, and still re-parking a stroller.
FAQs for Best Stroller for Disney
Q: Should you use a stroller at Disney?
Ans: Disney is a wide field. Eventually, your kid's enthusiasm will wear off and they'll drain. To ease your little one and to deter tantrums and save on rental costs, I strongly suggest carrying your own stroller.
Q: Can you want to rent strollers at Disney?
Ans: Disney strollers can lease, but they come at a regular expense and there is also a security deposit. $100 is the current security deposit.
Q: What are the rules on the size of Disney strollers?
Ans: Disney updated the rules on which strollers are permitted in each theme park as of March 28, 2020. Strollers must have a maximum width of 31 and a maximum length of 52, whether they are a double stroller or a single stroller, for entry. Often, stroller wagons are banned.
Q: Can I come to Disney with my double stroller?
Ans: If you have two little ones, take the double stroller to Disney for sure! For comfort, my advice would be to use a lightweight double stroller if necessary.
Q: Is there a weight limit for the Disney strollers?
Ans: For children who are 50 pounds or fewer, single strollers are preferred. For children aged 100 pounds or less, double strollers are advised.
Stroller Accessories for Disney Trips
There are a few extra items you can add to make things much more comfortable after you've picked out a stroller.
A family outing to Disney World is something that you and your children are unlikely to miss. However, it may take incredibly long days, which suggests that it is necessary to have all the things you may need with you. This is going to make the visit that much more fun. If you have kids who need a stroller, this is the ideal opportunity to explore these handy stroller accessories that are great for Disney World.
For Disney World Theme Parks, here are several stroller attachments that are convenient for parents.
Stroller Fan
In Florida, especially in the summer, it is hot and humid. Having a stroller fan clip-on will help your little ones keep calm. For a kid who cannot control their body temperature as well as an older child, I will surely carry one of these.
Stroller Lock
Particularly when you have a high-end stroller with you. The stroller lock should NOT use to mount your stroller to a post, railing, or anything that would keep it from being pushed by the cast members. You can, though, use the stroller lock to lock two wheels together at the rear. This would discourage anyone from going off with it, but it can also be rearranged in stroller parking by the cast members.
Extendable Sun Shade
You may want to recommend buying a stroller shade extender if your stroller doesn't have a canopy or has a tiny one. They make a standard size that fits and provides UV protection for every stroller. If your child falls asleep in the stroller, they provide some privacy as well.
Rain Cover
For Disney World, this is an indispensable stroller accessory! It rains in Florida often and odds are at some stage you'll be trapped in a downpour. A rain cover will shield the stroller from being wet, as well as the children in it.
Stroller Name Tag for Disney
At Disney World, there are a lot of strollers, and putting a name tag on your stroller can help you find yours more easily in parking areas for strollers.
Bag Hooks
There are hooks for you, which can carry shopping bags, diaper bags, etc. These are useful if you do not have much under-seat room.
Stroller Trays
The brand may sell one separately if your stroller does not already come with a stroller tray. Or on Amazon, you might look at universal stroller trays. It is very nice to have a spot to sit for your children's snacks.
Types of Strollers
Different styles of strollers are available to select from, including:
All-purpose Strollers
For daily activities such as walking through the neighborhood or strolling through a shop, strollers are perfect.
Travel Systems
A travel device is a stroller that comes with a car seat for children that connects to it. Parents prefer travel systems because you can use them from day one, and during the car-seat-to-stroller-and-back transition, you do not have to interrupt your kid. You can purchase a travel system from the same manufacturer, with a stroller and a car seat, or mix and match multiple brands and make your own.
Double Strollers for Disney
Double strollers carry two kids at the same time. A double stroller will make your life a bit simpler if you have twins or little ones that are similar in age. Two configurations come for double strollers: in-line or side-by-side.
Convertible Stroller for Disney
A convertible stroller moves from a single to a double stroller. If you're planning on having two children reasonably similar in age, convertibles are a smart choice. Convertibles come in either in-line or side-by-side setups, much like double strollers.
Strollers for Jogging
These strollers are designed to tackle rougher conditions and have souped-up suspension mechanisms for a smoother ride. These runners take notice.
Stroller Frames
When you attach a compatible baby car seat, a skeleton of a stroller, both are made complete.
Choose the Best Stroller for Disney
That you've already agreed to use a Disney stroller, the topic turns to choose the right one. When it comes to finding the right stroller for Disney, there are also many qualities that are important.
Maneuverability
When picking your stroller for Disney, this is probably one of the most critical aspects. I guess we all know how crowded it can get with Disney World and Disneyland. You want a stroller that helps you to pass these crowds with as much grace as you can.
Closing, opening, and holding quick
Being able to comfortably close, open, and hold the stroller is a very close second to maneuverability. This may not be a big deal in the everyday use of a stroller, but by using Disney transportation, this immediately becomes incredibly necessary.
Although often you can only roll your stroller onto a boat or monorail, any time you get on a bus, you will be expected to empty out, fold up, and hold your stroller.
Size (Stroller for Disney)
When you have to make your way around a huge troop of people, large strollers aren't basically the best choices. Inside a hyper-crowded amusement park like Disney World, tiny strollers are easier to drive around and walk easily. Easily foldable, lightweight strollers almost make a snap for infants jumping on and off buses and monorails.
Safety
When purchasing a mobility aid for infants, safety is of the utmost importance. Disney trips are all about walking here and there, handling the crowd, dealing with weather instability, and most importantly, whatever can come with a lot of fun.
For a venue such as Disney, a stroller with a lot of headroom, sunshade, and rain cover will be the ideal pick. It will shield your child from the vagaries of the weather.
Storage and Snack Tray
A good Disney stroller should provide plenty of room, along with the treats and souvenirs you are bound to buy at Disney, to hold these necessities. Few advanced versions also come with snack trays that you can add when tummy time is finished at the time of snack break and remove.
Fold Ability
Until you're at Disneyworld, we'll never know how vital this feature is. There, to access numerous parts of the park, you also have to get on monorails and buses. Plus, by car or flight or some other form of transportation, you would have to enter the park. For public transit both within and outside the park, a simple folding system would support you a lot.
Happy Ending the Best Stroller for Disney
So, with this chapter, we are nearly finished. I will suggest, to infer, that there is no such thing as the world's best stroller. The right one for you is totally based on when and how you want to use it.
It just depends on the situation you are in and what your children need. If you need a stroller all the time, from your plane ride to the resort and all over the Disney resort, so perhaps the safest option for you is to have your own. If you're only going to have it while you're in Disney parks and you don't want to hassle dealing with a stroller on your flight or car ride home, it would be easier to borrow one from Kingdom Strollers.